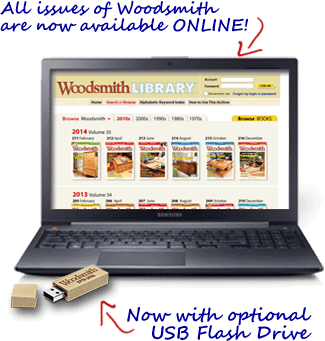 Buy ONLINE access
to all issues of Woodsmith magazine!
Woodsmith Back Issue Library ONLINE
…ONLY $99!
Good News!
If you own the online library and subscribe to Woodsmith in print, you get new issue updates in your online library FREE—before they mail!
Or if you prefer not to subscribe in print, you can still get the new issue updates by paying an additional $24, after you purchase the online library.
Bryan: Hey, Don…the new issue of Woodsmith just came out.
Don: It looks terrific!
Bryan: It sure does. You know. I've been exploring the new online library and was wondering, how do I get the current issue in my online library?
Don: As soon as the current issue is ready, they automatically update the online library so it's there right away. In fact, you get it a little early because the print edition has to go through the mail. But your online library will update with the current issue right away, before print subscriptions arrive in the mail.
Bryan: That's pretty convenient, so I'm guessing it costs extra to get the online update?
Don: Nope. You paid for a print subscription so the online updates are completely free!
Bryan: I've got a couple of buddies who bought the DVD but don't subscribe to the magazine. Is there a way they can get issue updates in the online library?
Don: Well, if they don't want a print subscription but still want to get the DVD or online access, they just pay a little fee to get each issue as it comes out, automatically updating in their online library.
Bryan: That sounds like a great deal, instead of keeping a bunch of issues in binders and trying to keep track of everything!
Don: Well, the paper is nice but this is so convenient. I can go online and find so many things and once I have exactly what I want, I can get in the shop and start woodworking.
Bryan: Speaking of woodworking, it looks like you're about finished with this bookcase. Maybe I could give you a hand?
Don: Terrific, let's get to work!
Woodsmith Back Issue Library ONLINE …ONLY $99!
Have you already purchased the Back Issue Library DVD?
Get FREE ONLINE ACCESS to all the issues on your DVD!
Click here to verify your purchase and activate your account.
QUESTIONS? Contact Customer Service at 1-800-333-5441,
Monday through Friday, 7a.m. to 7p.m. Central Time.